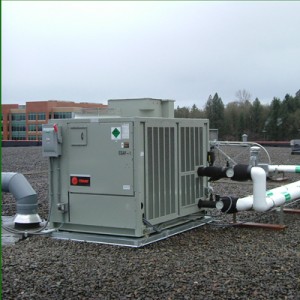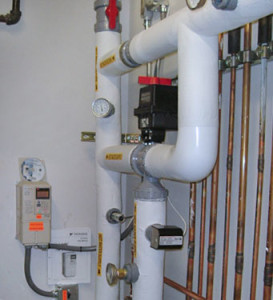 Project Name: FLIR Systems, Brysen Relocation
Location: Wilsonville, OR
Developer/Owner: N/A
Architect: LRS Architects
General Contractor: Commercial Contractors, Inc.
Scope of Work: Preparing facility for lens coating equipment
Overview:
FLIR Systems is the leading manufacturer of thermal and stabilizing camera systems. Partnering with Commercial Contractors in our role as a design build mechanical contractor, Hunter-Davisson was challenged to prepare FLIR's headquarters in Wilsonville for lens coating equipment being relocated from Florida. Work included placement of a 2,100 lb. chiller on the roof and completing major remodeling inside the facility, while remaining invisible to production staff at FLIR. One of Hunter-Davisson's biggest accomplishments of this project was using innovative solutions to ensure that the water tanks wouldn't freeze in the winter without the use of antifreeze.
Highlights:
Remodel of facility to include a new mechanical room
Extension of existing compressed air piping and AR/N2 gas lines; addition of reverse osmosis (RO) water piping and AR/N2 gas lines
Installation of rooftop chiller with water mains for process piping, and branch return and supply lines
Design and installation of customized system delivering various water temps to critical processing equipment
Design and installation of system to ensure liquid/gas purity
Fast turnaround of design and adaptation to client's production schedule
Letters/ Appreciation Accommodation:
Awards:
Associated Builders and Contractors Excellence in Construction – Special Recognition