Hunter-Davisson understands the importance of reliable refrigeration systems and knows breakdowns can be extremely costly and disruptive to your business. Hunter-Davisson is available around the clock, 365 days a year, to respond to your critical refrigeration needs to make sure your commercial ice machine, or any refrigeration system in need of repair, is fixed quickly and properly. No matter the industry or application (food, beverage, hospitality, or cold products delivery) Hunter-Davisson has the technical capability and expertise to keep your refrigeration units operating at peak conditions.
Industries
Hotels

Restaurants

Cafés

Retirement Centers

Hospitals

Motels

Churches

Schools

Machine Shops

Clubs

Bars

Bowling Lanes

Convenient Stores

Casino

And more…
Equipment
Walk-in Cooler

Reach-in Coolers

Bottle Coolers

Walk-in Freezer

Prep Tables

Reach-in freezers

Ice-machines

Air Conditioners
Commercial Refrigeration Installation
Whether it's a new project or a remodel, proper refrigeration system installation is critical to an efficient, effective system. Even the top equipment can't perform to specifications unless a technically adept team with proven experience installs it. With nearly fifty years of HVAC and refrigeration experience, Hunter-Davisson works with clients to develop a customized refrigeration systems program to specifically meet the needs of your facility. Our honed project management processes and technical expertise ensure all refrigeration installations are completed on schedule, on budget and operate at peak performance.
Commercial Refrigeration Service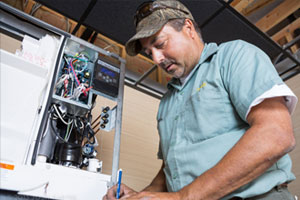 Your refrigeration systems operate 24/7 to keep your products cool – and so does Hunter-Davisson. We understand that issues don't always occur during business hours, so that's why we're ALWAYS on-call. Hunter-Davisson is a full-service maintenance company that caters to businesses, both large and small, across the Pacific Northwest. Whether you're just looking to get an ice machine repaired or need your walk-in freezer fixed give us a call anytime – 24 hours a day, 7 days a week, 365 days a year.
Commercial Refrigeration Maintenance
Similar to HVAC systems, refrigeration systems age over time, and their efficiency and reliability continually diminish. Regular maintenance is required to ensure minor issues with your ice machine or cooler don't become costly repairs and replacements. Htunter-Davisson is able to set up periodic maintenance plans that are customized for your commercial refrigeration needs. Once on-site, our experienced technicians can detect warning signs and make minor repairs before major problems and costs arise. Whether it's monthly, quarterly, semi-annually, or a yearly maintenance plan, we can develop a program to meet any building's specific requirements.
We're on-call 24/7 for emergency repair needs in Portland and the surrounding areas.
503-234-0477