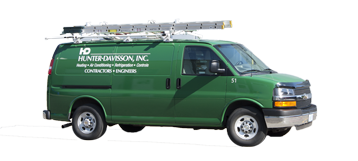 While summer is almost over, it's never a bad time to talk about how to properly maintain your commercial refrigeration system (or ice machine). For starters, no matter the size, anything from a small sandwich/drink displays and ice machines to large walk-in freezers requires a maintenance schedule. Routine maintenance and cleaning will not only prevent costly repairs and downtime to your business but will also extend the life of your equipment while reducing electrical consumption. That said, popular opinion still tends to be, "If it ain't broke, don't fix it," Well, just as with maintaining your vehicle, the steep repair bills always outweigh the service fees.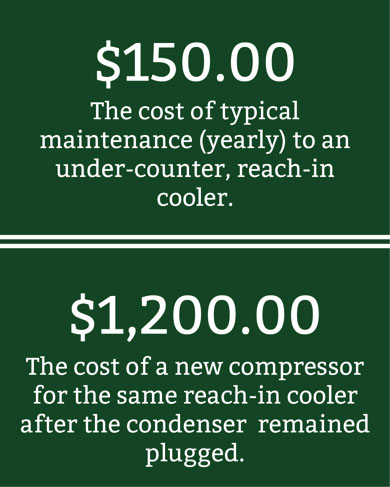 How often should we be cleaning our refrigeration system?
This is a loaded question considering the diversity of coolers, freezers, and ice machines. For example, you own a bustling restaurant with a walk-in freezer storing a large amount of product; it's recommended that you service your system quarterly, at a minimum, because your condenser is most likely located on the roof and exposed to the elements. However, a small reach-in cooler can get away with semiannual (twice-a-year) maintenance. Not sure where your refrigeration system falls? Give us a call or drop us a question.
Basic Refrigeration Maintenance Checklist
Degrease and pressure clean condenser coils
Clear condensate drain lines
Check condition of door gaskets
Monitor/adjust thermostat operation
Monitor temperature cycling
Check compressor operation and control wiring
Check refrigerant level
Oil motors (if oil ports exist)
Check unit thermometer
Check suction line insulation
Monitor/adjust defrost timers
Ice Machine Maintenance Checklist
Detach and clean all removable parts
Pressure clean bin drain
Acid wash evaporator
Scrub and sanitize bin
Adjust ice level sensor probe
Refrigeration and Ice Machine Maintenance Tips
Between routine maintenance, here are some tips to keep your cooler or ice machine running smoothly.
Clean your condenser coils
If you can access your cooler's condenser coils (on smaller coolers, they're usually at knee level), go ahead and keep them as clean as possible—once they get weighed down by gunk and grease, they can cause issues. Some condenser coils are out of sight, but they should still be on your mind. A unit may continue to function when the condenser is dirty—but it will work harder and longer—costing you more money in electric bills and the inevitable replacement costs of a compressor. It's incredibly common to find a bad compressor caused by overheating due to a dirty coil and lack of maintenance.
Scrub your ice machine bin every other week
It only takes one black flake or a funky smelling cube to really ruin a customer's experience, so avoid the embarrassment and keep customers happy with a quick clean to the ice bin every few weeks. First, remove the ice and place it in a clean cooler. Then, wipe down the inside of the machine with a mild detergent and rinse thoroughly. Last, sanitize the water line and be sure the water filter isn't blocked with sediment.
Change ice machine water filters and avoid brown slime
The water filters on your ice machine should be changed every six months. This not only helps with the quality of the ice but also improves the speed in which the ice is produced.
Keep an eye out for brown slime—which usually develops from specific types of yeast. If you find this sludge, a quick scrub may not be enough. It's recommended to consult your ice machine manufacturer's manual or give us a call.
Set and KEEP a schedule
This is the most important tip by far. Cleaning your ice machine and performing maintenance on your refrigeration system should be done regularly. Let us worry about your maintenance schedule for you. Hunter-Davisson maintains a wide variety of commercial refrigeration systems and ice machines, allowing business owners to worry about more important matters—like the business.  Give us a call or drop a line with your e-mail, and we can set up a maintenance schedule for your system today.